Carrier Class Internet Services Now Available - Cost compare to DSL and Cable home rates or below.
Electronic Solutions, Inc. of Roxboro has installed wireless Internet access at Hyco Lake and now announcing our new, super high-speed wireless Internet service in Roxboro and Person County..
Initial test confirm signals are present at the following at Hyco Lake:
Dunaway Landing, Rock Point Landing, Saint Georges, Covington Place, Lakeside, Tanglewood Shores, Deerfield, South Pointe Landing, Guy Gardner, Stonegate, South Landing, Quail Hollow, Little Duck, Duck Point, Forrest Shores, Wild Turkey, Coon Ridge, Beaver Dam Click HERE for coverage map.
Roxboro Coverage
In Roxboro, we are covering about 80% within the city limits and if you are located within site of our tower on Hill Street (3 towers approx. 1/4 mile behind Kimbrough's Florist on the Durham Rd), we can get signals as far out as 10 miles.
Speeds are from 600K to 2.4 Meg. with ping times from 10-25 milliseconds! A wireless transceiver is supplied by ESI for the customer to receive service. All that is required on the P.C. is a Ethernet port or we can install one for $29.
The transceiver is about the size of a laptop PC and the antenna is a flat panel or Yagi.


Installation cost of $99 for a 1 year commitment which includes the wireless antenna and receiver, 100' of Ethernet cable and simple installation at the customer site. We are using Motorola Canopy broadband 900 Mhz wireless equipment which is the leader in wireless communications.
Roxboro Wireless
| | | | |
| --- | --- | --- | --- |
| Roxboro Service | Install Fee | Monthly Rate | Term |
| 256/128Kbps | $99 | $34 | 1 Year |
| 600/130Kbps | $99 | $39 | 1 Year |
| 1.5/256Kbps | $99 | $44 | 1 Year |
WiFi Installation
| | | |
| --- | --- | --- |
| WiFi Networking | Install Fee | Hardware |
| In House or Business | Free with DSL or Wireless Service | Access Point $60 Each PC $50 |
TECHNICAL STUFF - The Motorola receiver unit is a 3 Mbps device. Speeds vary based on signal strength, atmospheric conditions and the unit configuration. Each unit is capable of up to 2.4Mbps download speed. The committed speeds are based on the service you subscribe to. The maximum burst speeds are up to 2.4Mbps on all the units which varies as noted above. The ping times are faster than ANY other service available including cable modem, DSL and satellite. Our typical ping times to our boundary router are 10-25 mSec as we use microwave backhaul equipment to the Internet backbone. More technical info is at the Motorola site at this link: Motorola Canopy
This Canopy Fixed Base Broadband Wireless System should not be confused with WiFi which is a very limited distance system of about 100' primarily used in homes and some restaurants for connecting a laptop to. WiFi uses 2.4 Ghz frequency and is shared by many other wireless devices such as wireless phones, baby monitors, etc. By default a wireless router like a LinkSys or DLink come out of the box using channel 6 so the likelihood of interference is high if you do not change the channel to 1 or 11. The Canopy system is also not the same as a wireless broadband card that you may see advertised for laptops that connect to cell towers and cell phone systems such as Alltel. Our Canopy system is not sold to the public and is a proprietary system using highly specialized equipment that we have to install and maintain. It is very costly thus justifying the need for us to establish a contract with the customer to insure control of the proprietary units. Our base antennas are located in Roxboro on Hill Street and at Bethel Hill Charter School and Woodland School water tank towers.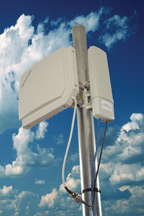 Make Your Home Total Wireless - No cables!
Interior WiFi network access points are available from ESI at competitive pricing reducing the need for Ethernet cabling in the home or business. Roam anywhere within 300' in your home with a laptop and get high speed Internet access - it couldn't be easier and without wires!
We will also be offering Voice Over Internet Protocol (VOIP) soon which means you do not need a telephone line at all to make phone calls. Our wireless transceiver will connect to a ATA device that we supply and all your local and long distance phone calls will be at a single monthly fee - no long distance company is needed and no local Sprint phone line!
Complete the form at this link: SignUpForm or call ESI today at: (336)597-4029 or contact us here: Contact Us - HycoLake.com

Be the first in you neighborhood to experience super high speed Internet services that cannot be matched by other carriers. Our microwave, carrier class backhaul provides the fewest number of hops to the Internet backbone of any service in this area. This allows us to provide huge download capabilities with speeds never experienced before in this area.
Remember when we quote you a price, all taxes, access fees, network fees and other fees are already included - don't be fooled by others offering a price that does not include all these adders - receive you service from a local company you can trust! If you get a lower quoted cost than ours, contact us and we will meet or beat the competition head-to-head.