Process for building boat dock on Hyco Lake
Determine the "water use lines" of the subject lot. These lines are projections from the property line at the 420' level (survey stakes) down to the normal water level at 410.5' In the photo below, the yellow lines are the projection. The red dots are where the temporary poles will be driven for proposed corners of boat dock.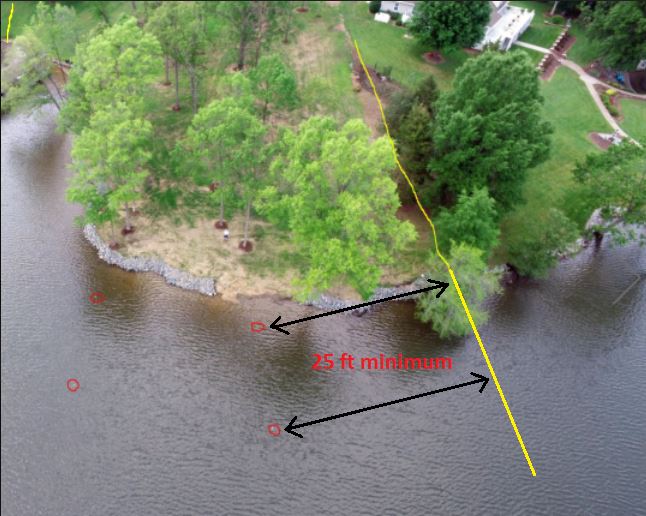 2. A 25' setback from the yellow lines has to be maintained to the dock.
3. This will determine the width of the dock when viewed from the shore or water not to exceed 1800 sq ft
4. If the lot is in a cove, special restrictions apply for projection into the waterway to insure safe passage of boats and setbacks maintained.
5. Once the useable area is determined, a building plan is created working with an experienced dock builder.
6. With a documented plan, the four corners are marked in the water with poles to show the location, size and setbacks of the proposed dock.
7. The plan is submitted to PCLA for review.
8. PCLA representatives will visit the site for inspection of location, size and setbacks.
9. After review and inspection, the information is submitted to the board for approval or sent back to the requestor with comments for change.
10. If PCLA Board approves the plan, a PCLA dock building permit can be purchased (Click here for Guidelines for the Use of Residential Properties at Hyco Lake)
11. The building plans are then submitted to Person County Inspections Dept. for building permit approval